My stomach was uneasy in the morning – had to visit the restroom a couple of times; seemed like a mild case of diarrhea. I had definitely pushed my digestive system to its limits yesterday! Arpit and I went on a stroll near our hotel to get some tea. We found a roadside vendor selling it in a matka (clay cup); it tasted different but good. On the way we also saw a small snack shop which was closed but with a unique name 'Bewafa chai wala'; they also had a special offer – discount for those who had a broken heart! I'll leave it to you to read the actual phrase that was displayed.
Our gang took a couple of Ubers to our next stop – our host had recommended the Parampara restaurant for breakfast. Most Ubers in Lucknow were Maruti's Wagon R.
I wasn't particularly looking forward to breakfast – would have been happy to skip it since I was worried that eating anything may trigger another round of diarrhea. Our body has its own ways of healing; when the stomach is upset you don't get pangs of hunger. We reached Parampara at 10am – this restaurant is on the other side of the city across the Gomti river in an area called Hazratganj. I skipped most of the items except for a few which i sampled – half a dhokla and some malai makhan; the makhan was unique – creamy, slightly sweet and smooth texture; it's like ice cream but a lot thinner than it; just melts in your mouth. If not for my stomach situation I would have had a cup full of it rather than just a spoonful.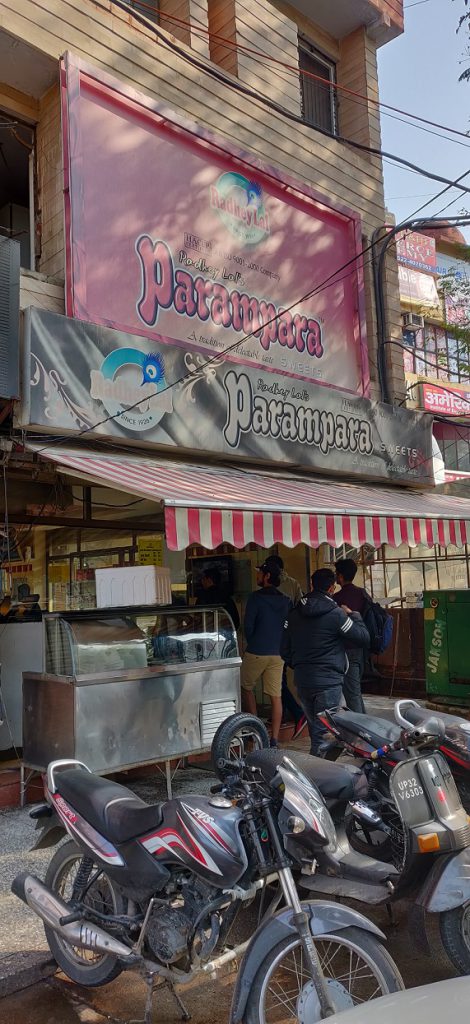 After breakfast we went in search of coffee and found a small shop called Peeni Hai nearby. I guess it was a new shop because they asked us to pose for a snap in front of their shop.
"We should buy some stake in this company," Arpit said.
Considering the way that many investors were pumping money into tea and coffee shops lately, it may well be worth the investment.
We took Ubers to Bara Imambara which was about 4kms away – our host had told us that it wasn't maintained very well but worth the visit if time permitted. This place is also on the same side of the river like Hazratganj.
As soon as we stepped out of the Wagon Rs we were mobbed by tour guides. We headed straight to the ticket counter near the entrance; since it didn't state that guides were mandatory we skipped the guide. You walk past a nice green garden and then cross an archway which will lead you to a path that has green gardens on either side leading you to the main building. Our Delhiite was busy reading info about the Bara Imambara online.
We were told to leave our footwear outside – there's a large area reserved for footwear. The main building had 3 halls and each hall had a different design – there were some interesting designs on the arches as well as on the ceiling. In this hall they had also displayed some artifacts including ancient scripts – would have been nice if there were some write-ups about the artifacts.
To get to the Bhul Bhulaya (maze), the local guys told us that we could enter only with a guide. And the maze was the main attraction of this place!
Having no choice we opted for one but they only had a Hindi guide; so our folks who were well versed in Hindi did the job of translating what he said for the rest of us.
This would have been a good place for an audio guide; would have helped in terms of language for tourists and also you will get to wander at your own pace. There were a lot of stories the guides told us – some of which we couldn't catch because he added another group to ours and kept rushing us through the 3 halls. Seems at one point while building this place they had people build it at day and had another set of people pull down the structure at night to give employment to everyone! In the main hall there were places at the top from which women used to watch the proceedings below. It was quite impressive how they managed to construct the place without using beams.
The Bhul Bhulaya (maze) is on an upper level; you take a set of steps to get there – it is a complex maze with narrow pathways, plenty of openings on most corridors, some places with staircases going up and down and low ceilings. Just like most other places in India, you will find names and heart symbols scribbled all over the walls!
"The reason we ask you to leave your footwear outside is because in the evening we will check if all of them have been taken. If not we know that someone is stuck in Bhul Bhulaya. You cannot get out of here without help."
I'm not sure if they really did that but the maze was definitely not the place that you wanted to be stranded in and perhaps another reason why they would not want to have people wander around with an audio guide – unless they could come up with a way to provide directions to the exit.