Next stop was Connaught Place – the metro station is Rajiv Chowk; I kept calling it Palace but it's actually 'Place'! As soon as you step out of the metro you'll land in a circle around which there are many buildings with shops. Rohan had been talking about momos many days before the trip and when he saw the first guy on the street selling momos he rushed ahead of the pack; the vendor (operating on a bicycle) had veg and chicken momos and we hogged on both – the chicken momos were really good.
After a mini discussion we decided to have dinner in Connaught and head to the railway station – couldn't cover any more spots in the remaining time since it was already 9pm. Our leader and Swami had pre planned one thing that they wanted to do before leaving Delhi and they were in the right place for it; they found a bar and broke away from the rest of us who tried to find a restaurant. Aided by Google to find good restaurants we landed up in a place where the menu was 95% non-veg! The four veggies in the group told us to go ahead but we found another restaurant a couple of streets away that had a more balanced menu.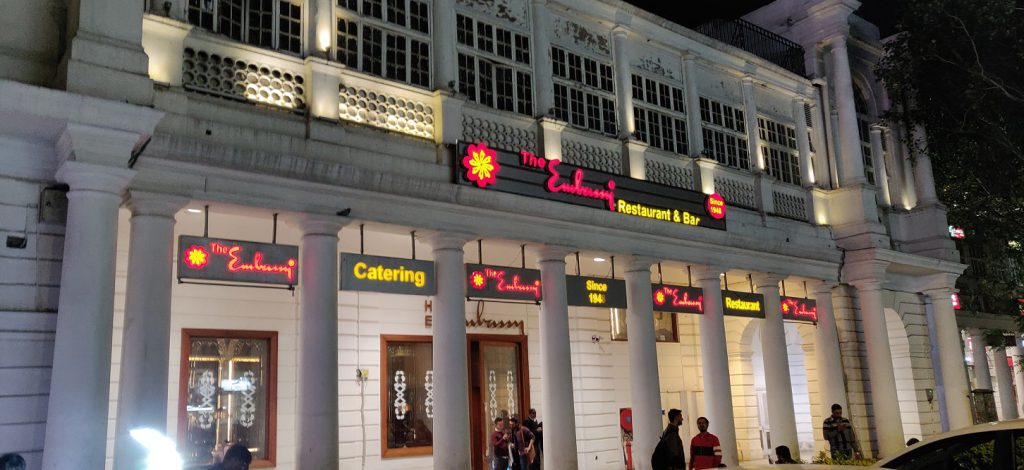 Eating fire
One of the must do's on our list was having paan in Connaught Place; we found 3 paan shops one beside the other in a circular layout where people had gathered. I had a couple of sweet paans; the guy would take a couple of betel leaves, add a few colourful items from the various small cups that he add, fold the leaves and literally stuff the huge paan preparation in your mouth! You'll end up munching on that mouthful for 5 minutes!
There are plenty of flavours and types of paans available in the shop: chocolate, strawberry, butterscotch etc. The most unique one is called the flaming paan – the guy would light a small fire on the paan and stuff that into your mouth (with the fire); no one from our group dared to try it but we witnessed a couple of people having it.
It was 11pm when we took a couple of Uber SUVs to get to Hazrat Nizamudin railway station.
From a distance we could see the top part of India Gate which was one of the other places we had on the list the bridegroom had given which we had to skip due to time. The railway station is close to another tourist attraction – Humayun's Tomb. Couldn't see much of this on our way except for the board. Following the Uber map, the driver ended up on the backside road to the station which was barricaded for vehicles; we hopped off and walked our way to the entrance.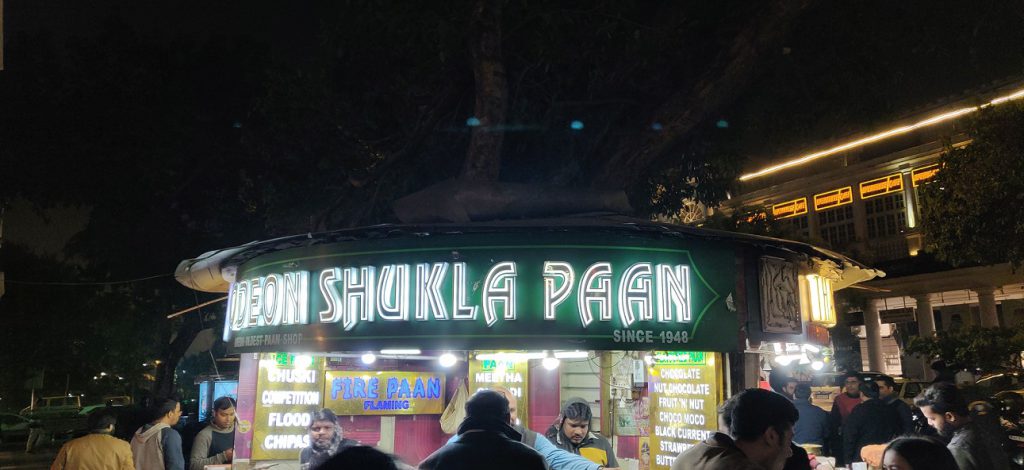 Our train heading to Agra was already there in the station. The intent of taking such a late night train was to maximize our time in Delhi. We had searched for private cab operators who could have taken us to Agra but didn't find any that were cheap when we enquired through trusted contacts; there were buses but none of them were available for later in the night – this train was the only option to delay departure from Delhi and arrive for the sunrise in Agra. It's strange the way the booking system works for our trains – this train starts from Meerut City (one stop before Delhi); when we searched for tickets from Delhi to Agra we didn't find any but when we searched for tickets from Meerut to Agra there was availability – the ticket price was the same from both stations. The train departs from Delhi at 00:15 after a 1 hour halt in the station. So by the time we reached the station, it was already there. Our host had advised us to book berths in the AC coaches since the temperatures in the non-AC coaches would be a lot lower due to the temperatures outside.
The train left 5 minutes past the scheduled departure time; we were hoping it would get delayed by half an hour or more so that it would delay our arrival in Agra. The scheduled arrival time in Agra Cantt station was 2:40am – the more it was delayed the more we could sleep in the train and less time we would have to spend sitting in Agra's railway station. I doubt there was anyone else in that train praying for a delay!
Undiscovered secrets
I was awake before our alarms went off one after the other; short of sleep but at least caught a couple of hours of uninterrupted sleep. It wasn't long before the train halted at Agra; only a delay by a few minutes. This was an odd time; we had 3 hours to kill but getting to a hotel wasn't of much use since we'd have to pay for a full day. But we were also short of sleep. One good thing about railway stations in India is that at least in the ones in major cities, even during the odd hour or 3am you will still find a few people around; same with this station – thankfully it wasn't completely deserted – a few people walking around, some sleeping on the platform in self made sleeping bags using bedsheets and some passengers like us sitting on benches.
Our plan (the half baked plan) was we'd find a place to sit (which shouldn't be hard in a railway station) and while away the 3 hours; but with all of us half sleepy and tired, 3 hours now appeared to be an eternity. We went around the station to find comfortable places; I had read online that there were lounge rooms in the station and that you could even book them online – but when I had tried online for this particular station I was unsuccessful and it made me wonder whether this station had a lounge.
As we wandered through the station we discovered the lounge room and took a peek inside – there was a small reception and then another door that led to a medium sized non-AC hall with many single seater cushioned chairs. Another door in here led to the AC room which had sleeper type seats that looked extremely comfortable and could recline to an almost horizontal state. Unfortunately they didn't have 12 sleeper seats and a few people had already occupied a couple of them – so we took 5 inside and 7 outside for a couple of hours. The place is better than the usual retiring rooms that you find in railway stations and seems like many of the main railway stations have these sort of lounges – reasonably priced and ideal for backpackers and budget travelers.