Lucknow Part 5 – Bullseye on the street
Next we had to find our way out of the lanes to the main road; and our Delhiite led us confidently with the help of Google. Strangely, even though he was a Delhiite he was the one carrying the most luggage – a small suitcase in addition to the backpack. Dragging his trolley suitcase he religiously listened to Google which brought us to a dead end after 10 minutes of weaving through lanes!
"There should be a way here," he said while double checking the map.
With so many people and shops around we could easily have asked someone for directions! And that's what we eventually did.
After a couple of lanes we could see the Red Fort, our next destination, at a distance. To get there we had to cross the construction area; we walked in a single line so that there was space for people to walk in the opposite direction. I noticed a man chewing something opening and closing his mouth and walking towards me; when he was an arms length away from he, he made a funny noise and fired a blob of colored spit that went splat on the construction board to my left; the projectile missed me by a few inches. This is the habit of chewing paan (the betel nut – this is different from the betel leaf); this nut has a place in traditional medicine but anything consumed in excess is harmful for the body. The habit of chewing paan is more often seen in North India; people typically chew it for a long while and then spit it out; this creates red stains on pavements, roads and walls. I stood frozen for a moment – it was disgusting the way he spit in public without any second thoughts and didn't bother that there were people around him; was it practice or just coincidence that it missed me?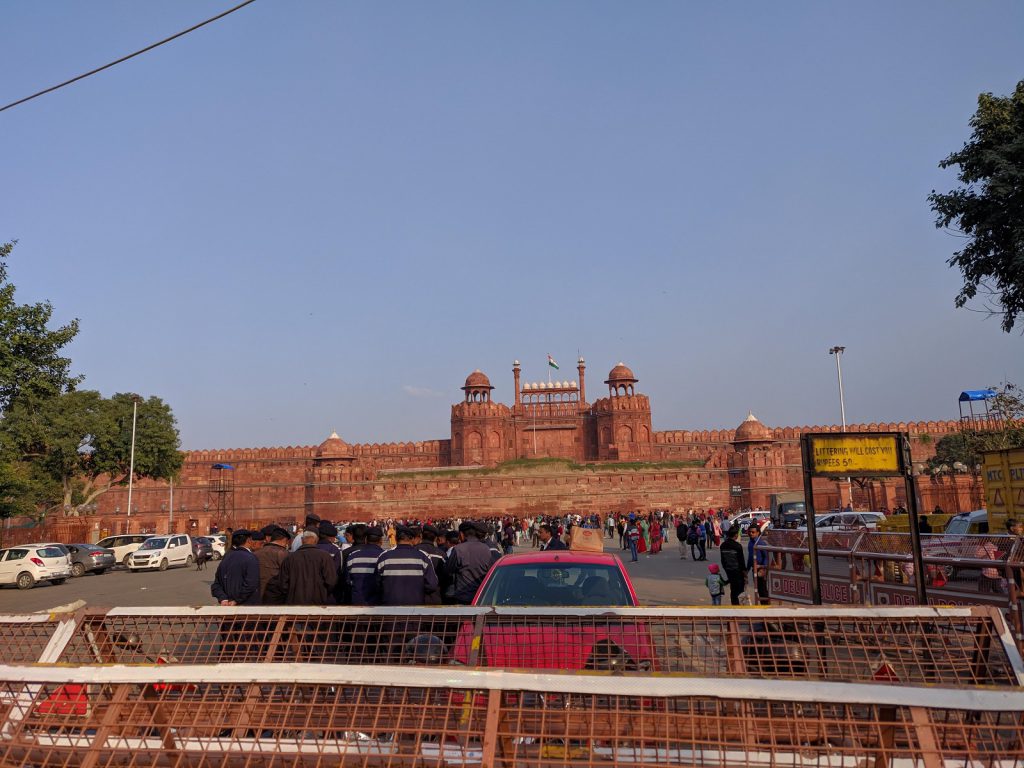 The pedestrian signal to get to the Red Fort was stuck on red for a while; it was an irony to see a few foreigners wade through the traffic by raising their hands to cross the road while we were initially hesitant to do so! The Red Fort had hoards of people standing inside the complex and outside. We didn't know if it was open and the Fort itself was deep inside the complex; going inside would have wiped out our entire evening.
"Let's take a photo for proof."
We took a group snap as proof that we had visited the Red Fort and then debated on our next destination. Plan was to get to Rashtrapathi Bhavan (area where the president resides) by night and so we did have at least an hour to squeeze in another place. Sankar and I had a place in mind that we definitely wanted to cover but didn't include in our final list – we weren't sure if others would enjoy the place and didn't push for its inclusion. But now with an hour to spare and no one having any other suggestions, we pushed our agenda!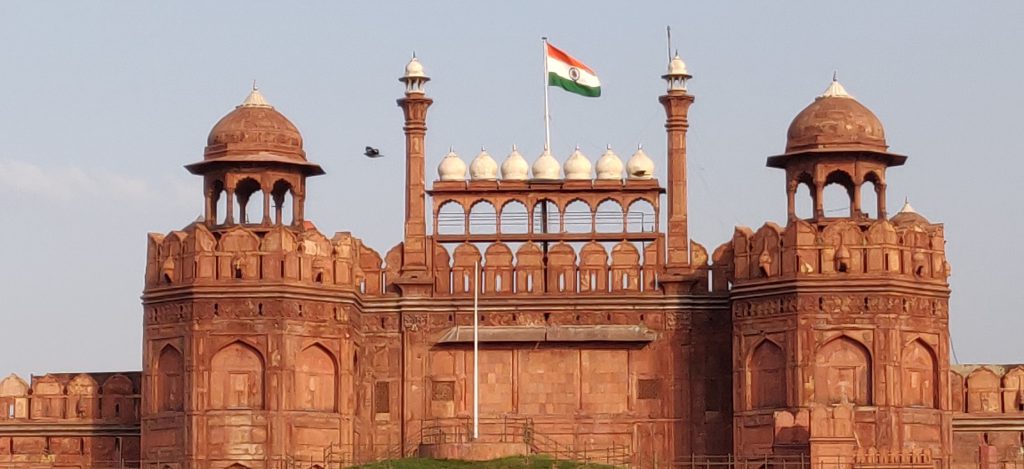 Beware autos
"Let's take an auto we can reach quicker." Our leader stopped a couple of autos to enquire the rate for Akshardham. It was about 8kms away and they quoted a ridiculous amount; seeing our shocked faces, a couple of the auto drivers said they can drop us at the Chandni Chowk metro for us to take a train – that was the station from where we had walked through all the lanes to get here. Some of the autos could accommodate 4 people at the back and a couple of people sitting with the driver while others were a little more spacious and could easily accommodate 6 people at the back without disturbing the driver. We needed 2 autos and we were used to the rate of Rs.10 per head but these drivers demanded Rs.20 per head. Autos are convenient for short rides and you find plenty of them in Delhi. While negotiating the rate, someone in the group shouted, "Hey, there's a metro station here."
Turning around we could see the symbol for the metro station on a small board. We abandoned the auto plan and walked to the metro – it was the Lal Quila metro station – we had forgotten to check what was the closest metro and the auto drivers were ready to take us to another metro station even though there was one just a few feet away! Definitely check your destinations before getting into autos.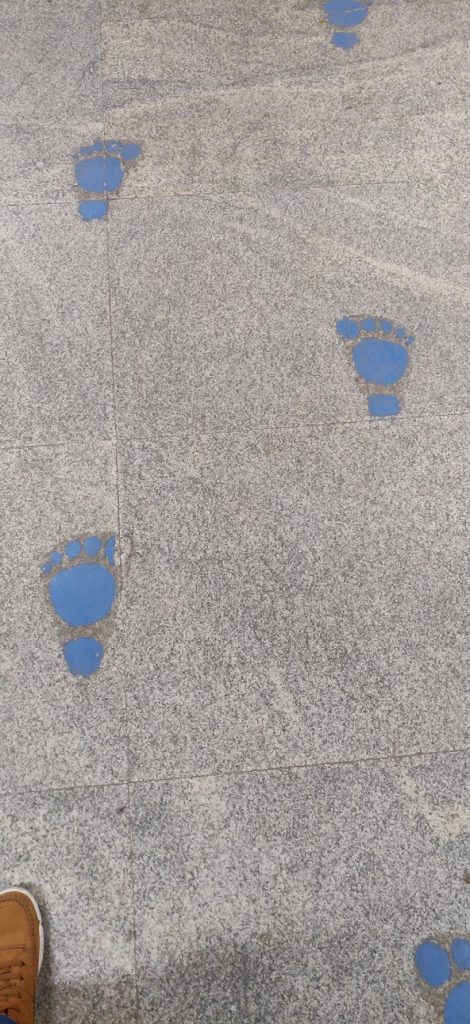 Delhi is pretty well connected by metro – at least all the tourist attractions are; so you might be able to avoid doing any autos if you are ok to walk a little to get to the stations. We got on the violet line and then switched to the blue line. Swami got stuck again because the turnstiles didn't like his card; and again he had to be helped by the metro staff – no pretty lady for assistance this time though! The Akshardham metro station had bicycles for rent but since it was getting dark and the place was just a kilometer away we didn't take them. There were a good number of sign boards showing directions to the Akshardham.
Uncomfortable screening
The complex was huge; we could see large parking lots and there was a fair bit to walk to get to the main entrance itself. A few metres past the entrance there was an open cabin staffed by a lady; while she was checking the bags of visitors, a bunch of boys went ahead of us skipping her. She called out, "Heeeyyyy" and the boys returned with a sheepish grin to have their bags checked. Though the place was obviously designed to handle 1000s of visitors, the baggage checking counter was definitely short staffed; it was easy for people to walk past the lady.
Since we were 12 we were considered a group and groups had separate areas for depositing bags – helped us avoid a queue! While counting the mobile phones we discovered that Aaron and Aprit were missing; they were busy taking photos and we asked them to hurry along. Even though we were still not inside the main area of Akshardham one thing that struck us was the cleanliness.
It was nearly 5:30pm and the last entry to the Mandir was 6:30pm. No photography in the Mandir.
"Only two people inside," the baggage staff shouted.
Two of us took turns to stack our bags in a shelf. Our Delhiite bought a couple of juices from the snack counter near the luggage room; Sankar and I hurried the folks to finish it soon since we wanted to maximize the time spent inside rather than outside. We rushed to the security queue.
In the queue for gents, the frisking done here was more thorough than what was done in the airport – this one is bound to make people uncomfortable! Even if you had a coin in your pocket these guys would feel it. Entry was free and we had 50 minutes to cover this place.