We struggled a bit in crossing the roads since these roads were like highways with pedestrian crossings few and far apart. Beside the Gomati river there was a long park stretch illuminated by a series of lampposts; opposite the park is a theatre – we were wondering if we should check out a movie but opted against it since our host had given us a lot of places to check-out and we were already behind schedule.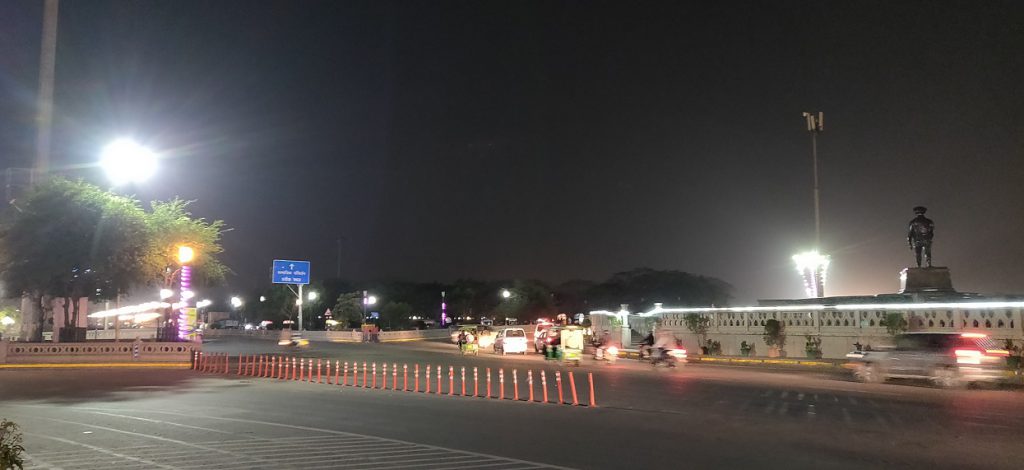 We hopped into the riverside park which was quite pretty – very well maintained greenery, clean pathways and a long stretch for a walk or a jog; at this hour of the night there were very few people inside – some families with kids running around the park; but it was surprising that there was only one couple.
On one side of the concrete pathway is greenery and on the other side facing the river are circular sitting areas under small domes. Aaron and Arpit spent the most amount of time clicking snaps over here.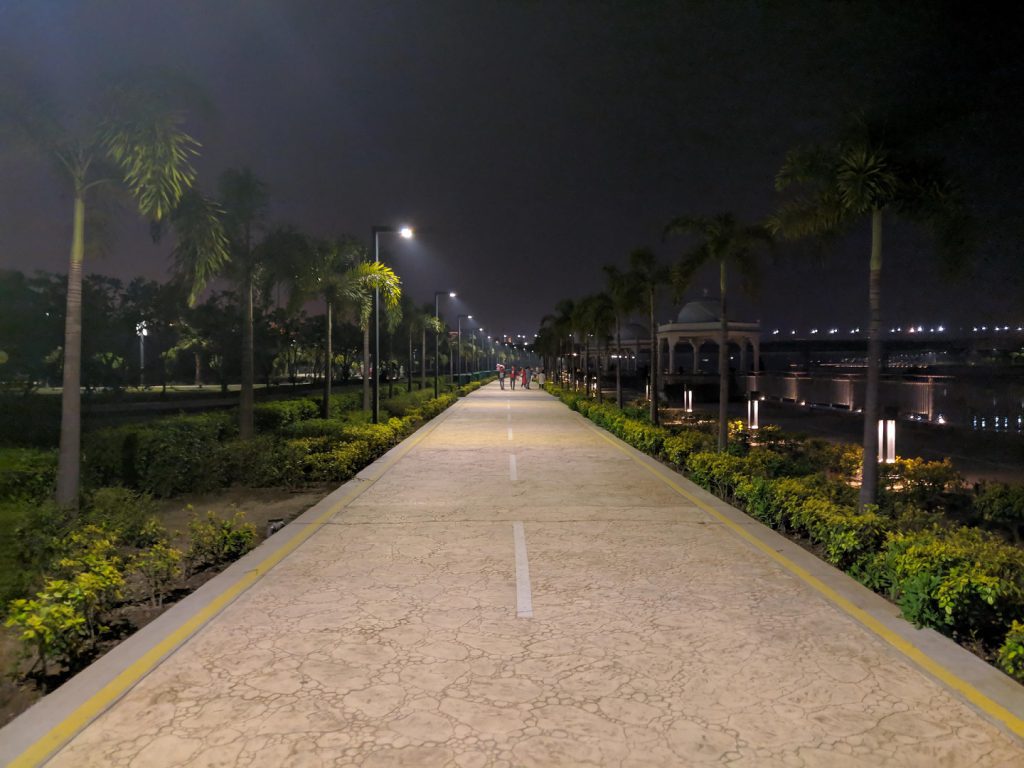 Just outside the park you had a few roadside eateries; one group had pani puris and the other had sweet cotton candy. Most autos in Lucknow are provisioned to accommodate 6 to 8 people – the usual 3-seater at the back and another 3-seater cushion just behind the driver. And the driver seat itself was lengthy such that 2 more people could squeeze in on either side of the driver. As per schedule we should have finished snacks by now and should have been seated in a specific restaurant for dinner. But here we were at 8pm, still near our hotel, haggling on prices with a couple of autos. So much for planning and schedules.
We got off opposite Chappan Bhog; the auto driver was keen on waiting for us but we told him that we'll be going to nearby places since we didn't know how long it would take. There was a momentary debate on waiting charges within the group but we decided to let the auto go.
The first thing that catches your eye will be what's happening outside the shop – there were fresh chaat items being made and something from that will definitely tempt you; we enquired what all the guy was making – he reeled out 3 names and we decided to try all of them; 4 plates of each and 3 of us would share a plate. If you want to try a lot of food, it's great to be part of a gang because you can get to sample a lot of items! The tikis (potato cutlet), tokri chaat, dahi (curd), the toppings of chutney, pomegranate and masala were all delicious. Just the curd itself tasted different from what we were used to having – very rich in flavour.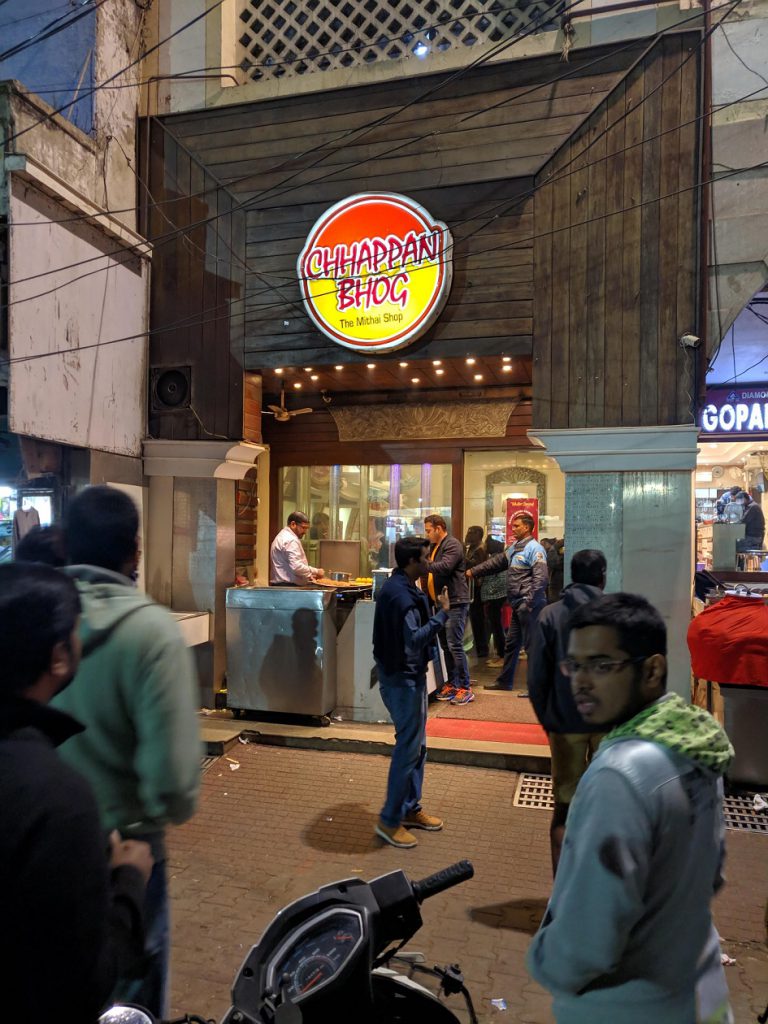 By the time we finished the 3 types of dishes, another cook started making jelabi on a stove on the other side of the entrance to the shop. The jalebis were really thin and we bought a few plates of them – they just melted in your mouth; the sweetness was just about right. Inside the shop Arpit paid the cashier for all the dishes that we had outside. And then we discovered that a couple of folks hadn't tasted the jalebi and Arpit went back to the cashier to pay for a couple more plates; the cashier asked, "Take away?"!
Even after those 2 plates we were still not done because there were plenty of items inside the shop! We bought a few of them and one of the staff also gave us a complimentary plate of sesame-based sweets as samples – that plate was cleaned up by our gang itself.
It was 9:15pm when we finished in Chappan Bhog. We had eaten quite a lot but our host had recommended a restaurant for dinner – as per his plan Chappan Bhog was for snacks but don't think even he would have expected us to have had so much food here. We easily could have skipped dinner but we thought we'll have something light in the dinner place.
To get to the restaurant we had to head all the way back to the area near our hotel – these 2 places are on different sides of the city; some autos quoted high prices and many even refused to go there. Getting multiple autos was going to be impossible; so when we found a larger 7-seater minivan we convinced the guy to take us all on-board. 12 of us squeezed into the vehicle!